WildOnes St. Charles Area Chapter and August A. Busch Memorial Conservation Area Join Efforts To Show-Case Native Gardens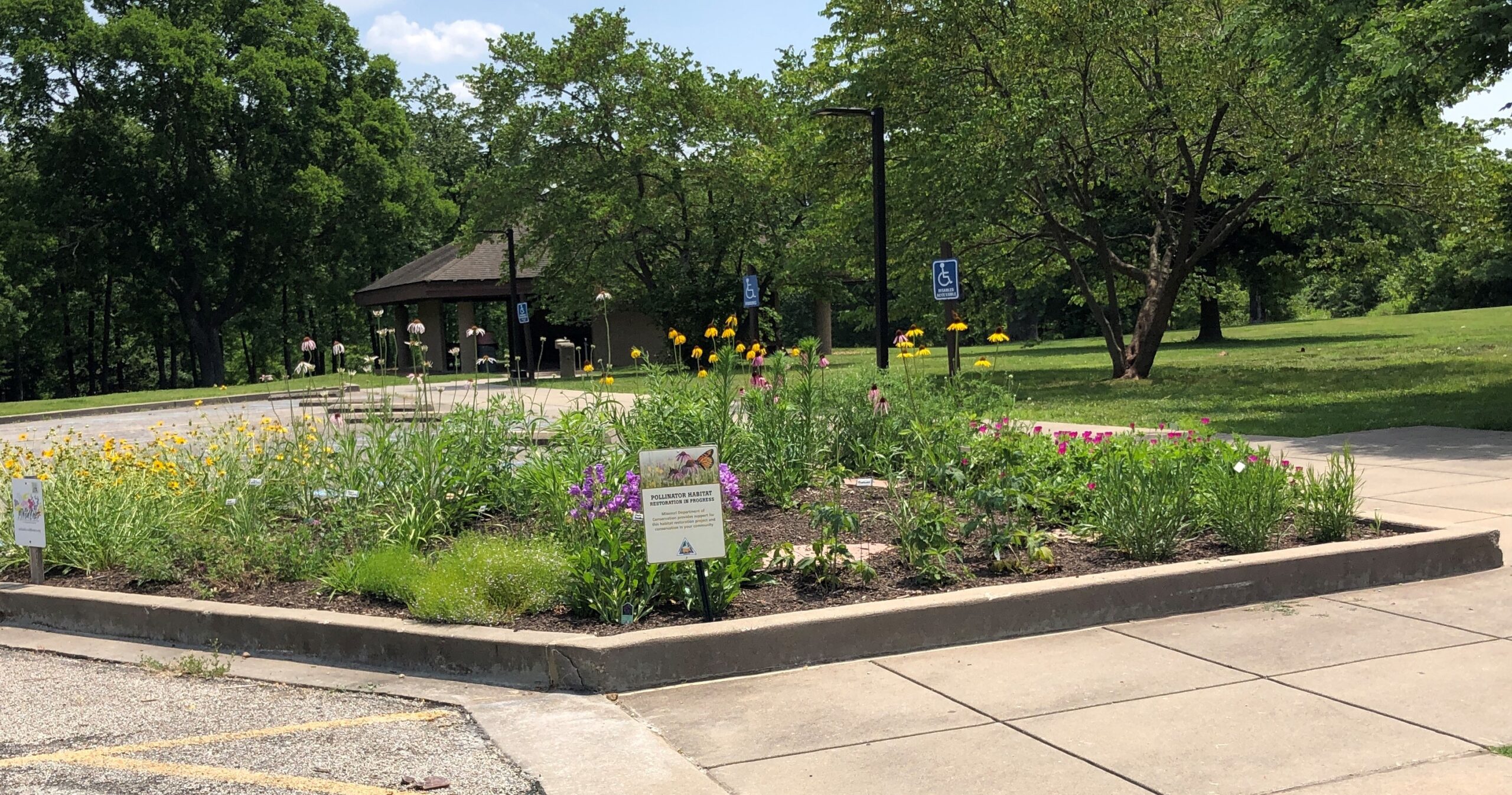 Wow and Double Wow to the C-5 Garden at Busch Conservation Office Building!
Nothing was blooming on May 11 when we met at Busch for the Tool Guy program, but look at it now! The Fritillary butterflies certainly enjoy it and prefer the yellow coneflowers! Previously, this island
was just a tangle of fall blooming sunflowers. It has been transformed into something beautiful
all year round. Jim Stellern of our chapter designed it for year-round blooms and the magic has
already started.
May 23, 2023
---
On Tuesday, April 27, 2021, the WildOnes St. Charles Area Chapter in conjunction with August A. Busch Memorial Conservation Area saw a year long effort finally come to fruition with the planting of approximately 150 new plants donated by Shaw Nature Reserve and Missouri Wildflowers Nursery. Most of the plants were used to enhance the entrance to the Jim Tom Blair Regional Office building, while a few others were placed around the edges of paths and sidewalks to add diversity and function as green mulch around the edges of the gardens. What began as a "maintenance agreement" in January 2020 for approximately 10 garden islands eventually morphed into a coalition of efforts to beautify and update the Busch Conservation Area with native plantings that the public might consider for their own yards. Identification tags accompanied the new plantings to help visitors identify what they like.
In the fall of 2019, members became aware that the August A. Busch Memorial Conservation Area (Busch) was in need of contracted people to weed their existing 10 garden beds ranging in size from approximately 150 square feet to 3,500 square feet of planting area. (The total of the 10 beds is about 12,000 square feet.) A formal contract for weeding was signed in January 2020 which extended through Fiscal Year 2020-21. Although WildOnes started their efforts to fulfill the newly signed contract in March 2020, little did they know that COVID-19 would significantly slow their efforts. The group was finally able to work in the garden beds at Busch in May 2020, but by this time the gardens had become quite overgrown and invasive plants had a good hold in many of the areas. 16 different Chapter members participated in the effort during 2020 and logged almost 200 hours.
In collaboration with the Regional Business Manager, Alyssa Morrison, the team began to develop ideas for enhancing the garden areas and educating the public in how native plants might be used in their home environments. Long term plans involved enhancement of the entrance to the entire area, but more immediate plans focused on taming and enhancement of the 10 different gardens which had become overgrown with bush honeysuckle, autumn olive, Bradford pear and an aggressive type of dogwood. Poison ivy also enjoyed a place in a number of the gardens. Permission was obtained in September 2020 to begin making paths through one of the dominant beds in front of the building. Angie Weber, Community Resource Specialist, employed by Missouri Department of Conservation (MDC) and Shaw Nature Reserve, agreed to help re-design the various gardens and incorporate more varieties of native plants. Several paths have been created by removing the overgrown native plants and installing metal edging and about 3.5 ton of rock, compliments of the WildOnes group. With this addition, the main MDC sign is now visible from the parking lot and many of the native plants will be more easily viewed. Thus far in 2021, six additional people have joined weeding and renovation team and have spent an additional 100 hours on the project.
With assistance of Angie Weber (who designed some of the gardens) and the generosity of Shaw Nature Reserve (an extension of Missouri Botanical Garden), through Scott Woodbury, and Missouri Wildflowers Nursery, the WildOnes chapter planted over 150 new plants in a few of these gardens. MDC provided labels with both the common name and scientific name of the plants to familiarize the public with what was planted.
The WildOnes in St. Charles have a lot of additional work that needs to be completed as time and funds permit. This work consists of removing several dead trees with the hope of someday replacing them with other native trees, continuing the drive to remove invasive species whenever they are found, maintaining the native plants and eventually redesigning some of the other gardens.
More information about the WildOnes St. Charles and Surrounding Areas can be obtained by emailing Bev Arnold at [email protected].
Plans for Busch Wildlife Area Island
https://stcharles.wildones.org/wp-content/uploads/sites/82/2022/03/Plans-for-Busch-Wildlife-Area-Island-website.pdf
iNaturalist Project at Busch
Aina Ferris has devised an iNaturalist "Project" for WildOnes St. Charles and Surrounding Areas involving the documentation of the natives in the near vicinity of the Jim Tom Blair Building . If you are a user of iNaturalist and reside in St. Charles, Lincoln or Warren Counties and want to help us in this endeavor, just log on to the application and ask to Join the Project: St. Charles WildOnes: Jim Tom Blair/Busch Natives Collection ; then record what you see when you are in the gardens. You do not need to be a WildOnes member to participate. (Thank you, Aina!) Be aware that all plants in the islands should be listed as "Captured" since they were all planted.